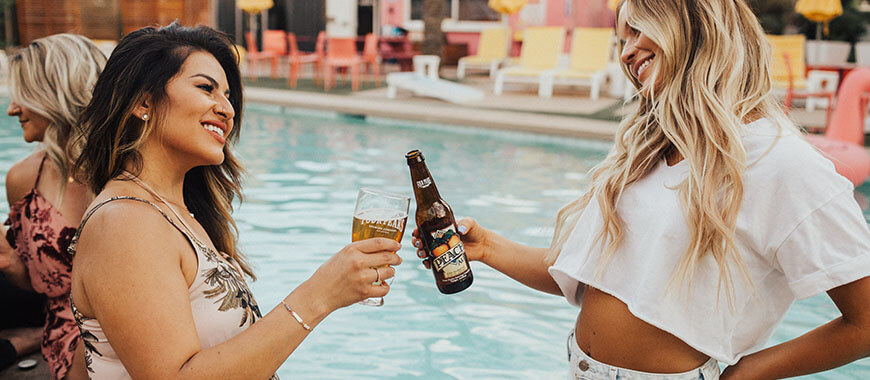 YOUR LAST NIGHT OUT ON THE TOWN
When you have the honor of being chosen as the maid of honor, you should feel grateful that you have a friend who values you enough to ask you to be in that esteemed position. Of everybody in the world that she could have asked, she decided to request of you to be by her side during the most important time of her entire life.
However, as the maid of honor, it's not all happiness and sunshine. There are plenty of things that you need to be thinking about in order to support the bride-to-be as much as you can, as this is your most important job. We all know that during this time the bride has a million things on her mind, and she can't possibly do everything herself, so it is your duty as the maid of honor to do as much as you can to not only ease a load of the pressures that are inherent in the wedding planning process, but you also have the responsibility to make sure that she is able to kick back and relax by showing her a great time. The best way to do t his is by throwing her an awesome, unforgettable bachelorette party!
Many people don't put enough stock in the bachelorette party. These days it's all about the bachelor party, and giving men the one last, great celebration, but we think it's a ridiculous idea that women can't experience the same level of awesome fun on their last night of being a "single" woman. So, since you have the job as the maid of honor, it is your job to throw them this one final night of pure, unadulterated fun! Unfortunately, there are a plethora of ways to mess up with the planning process of this remarkable night. The very last thing that you for to happen is for the bride-to-be to be disappointed with the festivities that you have planned, but it is very easy to fall into the same old cliche party that seems to dot the land these days. By adhering to the tips provided below, you should have no problem throwing a bachelorette party that will be remembered fondly by the bride-to-be for years to come.
The greatest issue that faces a large portion of maids of honor is figuring out what venue to host the bachelorette party at. Many people go with the obvious option of hosting the bachelorette party in the bride's living room or in the den of someone's grandma's house. For obvious reasons, these are a really poor place to host a bachelorette party. You don't want to treat a bachelorette party like it's a baby shower! A good bachelorette party should be all about going all out and having a complete blast, where the bride-to-be can really let her hair down! You should have the party go around to all sorts of different venues and activities! However, this can be a huge problem when it comes to transporting the entire party around to all of these different venues.
However, what better way to transport a bunch of people who are looking to have a fantastic night than by renting out a party bus? With any other form of transportation for a bachelorette party that you plan on you are forced to split the party into smaller, cramped cars, and need to assign designated drivers, and you aren't even allowed to drink while in the vehicles! But with a party bus, none of these issues are problems at all! Deciding on a party bus are a venue for the bachelorette party is a perfect.